Why Invest in Madeira Island?
Discover unique tax benefits for international business and expats, golden visa for non-EU nationals and other unique expat perks.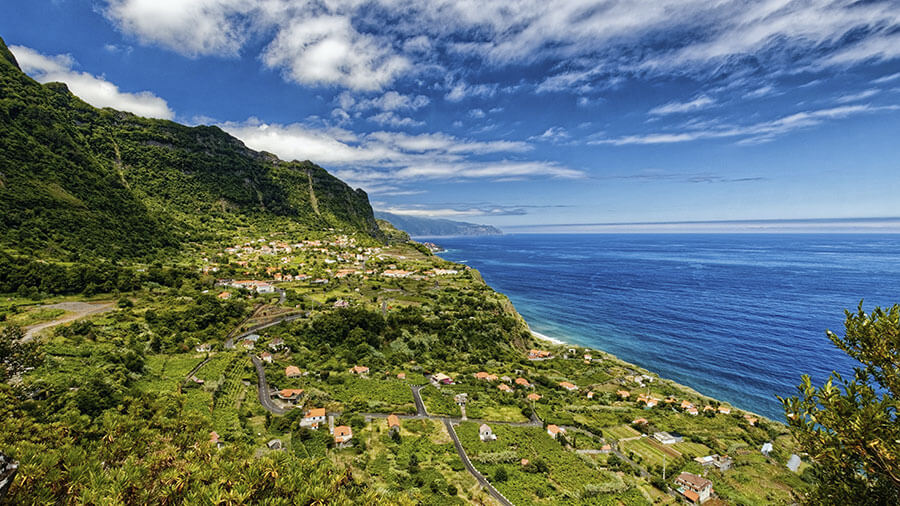 Discover
Why should you be Moving to Madeira Island
Learn more about all the benefits of Madeira Island.
Safety & Quality of Life
In the latest Global Peace Index, published by the Institute for Economics and Peace, Portugal ranks in the Top 5 Peaceful Countries. In this index, Portugal ranks above Switzerland, Canada and Norway.
International Living and Investopedia rank Portugal in the Top 10 Best Countries to Retire globally, and Investopedia rates it 2nd best country to retire in Europe. Unlike Spain, Portugal has never suffered any terrorist attack to date.
| | |
| --- | --- |
| Main Geographical Areas | Crime Rate (‰) |
| Portugal | 29,0 |
| Porto City Area | 28,5 |
| Lisbon City Area | 31,0 |
| Algarve | 45,4 |
| Autonomous Region of the Azores | 38,2 |
| Autonomous Region of Madeira | 23,8 |
If you are looking for the city with the best quality of life and where you can enjoy cosmopolitan and yet calm island life, then Funchal is the place to be. The Portuguese consumer association has ranked Funchal as the second-best city to live in Portugal.
In fact, Madeira has been receiving international attention since European royalty discovered the wonders of its year-round, spring-like climate and the associated health benefits. Empress Sissi of Austria, Emperor Maximilian of Mexico, and, later, Sir Winston Churchill stayed for extended periods, bringing this Portuguese island international status and notoriety.
Despite its proximity to Morocco, the island's nearest continental neighbour, Madeira's climate is humid (around 75% humidity year-round), thanks to its UNESCO World Heritage-protected, prehistoric Laurissilva Forest, which covers 20% of the island's 741 square km. This forest has more than 1,600 km of irrigation channels accompanied by footpaths that once connected the entire island's countryside.
With a population of 111,892, Funchal is Madeira's only major city. Home to almost 42% of the four-island archipelago's population, it's the islands' economic, cultural, and political centre. Madeira's other notable cities—Machico, Câmara de Lobos, Santa Cruz, and Santana—have fewer than 50,000 residents.
Just 55 minutes from Funchal, you can explore the wild coastal north and the town of Porto Moniz. Or, in 40 minutes, you can reach the sunny and peaceful village of Jardim do Mar, which both kisses the vast Atlantic Ocean and is walled by mountains.
Day-to-day life in Madeira is stress-free for locals, expats, and tourists alike, and the cultural offerings are immensely diverse for an island. Museums with Flemish and religious art, churches hosting organ music festivals, monthly symphonic orchestra and chamber music concerts, gastronomical and traditional folk festivals throughout the year, and regular art exhibitions are examples of Madeira's active participation cultural scene.
If you tire of the cultural agenda, you can always find peace on the neighbouring island of Porto Santo. A two-hour ferry trip takes you to one of Portugal's "7 Natural Wonders"—Porto Santo's 9 km of healing-sand beach.
Access to Healthcare
Madeira's healthcare system is comprised of three coexisting systems:
The Madeira Regional Healthcare System (SESARAM);
Occupation-based schemes are utilized in the public sector and select professions like law enforcement, military, and banking;
Voluntary private health insurance (complementing the above).
a) The SESARAM is administered by the Regional Department of Health and Civil Protection (Secretaria Regional da Saúde e Protecção Civil). Similarly, it is free and open to all residents of Portugal, including foreigners. However, several services have been charged in recent years. The system encompasses both primary and secondary healthcare, including the following:
Madeiran and Portuguese doctors
Having a baby in Madeira or any part of the Portuguese territory
Some dental treatment in Madeira
Community healthcare
Madeiran and Portuguese hospitals and specialist care
b) The SESARAM covers the entirety of the Autonomous Region of Madeira; the Autonomous Region of the Azores and the Portuguese Mainland, on the other hand, have their healthcare systems, to which SESARAM beneficiaries have access should they visit these territories or need ultra-specialized care in the Portuguese Mainland.
The overall healthcare system is world-class in general. Indeed, Portugal's healthcare system was ranked 13th in the 2018 Euro Health Consumer Index, outperforming the United Kingdom, Ireland, and Spain.
Legal residency is required to be eligible for the SESARAM healthcare system, as such healthcare in Madeira is accessible to foreigners who are legal residents of the Autonomous Region. SESARAM is also available to residents who are not working under specific circumstances, such as jobless, retired, or dependent on family members.
Madeira has three leading (public) hospitals:
Dr Nélio Mendonça Hospital – Madeira's major hospital, located near Funchal. It provides emergency care 24 hours a day and external consultations, internments, and operations.
Marmeleiros Hospital – located in Funchal's Monte parish – is generally designated for more critical hospitalization situations.
Dr João de Almada Hospital – likewise located in the Monte parish (Funchal) – is used chiefly for geriatric and palliative care.
Numerous health centres (centro de saúde) are scattered throughout Madeira and Porto Santo; generally speaking, each civil parish has one, with several offering 24-hour emergency care. These are responsible for non-emergency circumstances, such as routine consultations, nursing, and family planning. They are especially critical for families with children, as these are responsible for administering the Regional Vaccination Program.
Apart from the extensive healthcare network on the island, Madeirans and expats alike are avid consumers of private healthcare services. These are usually accessed through which voluntary private health insurance. The leading private practices, apart from private specialized doctors' offices (which amount to over 20), in the Autonomous Region are:
Hospital Particular da Madeira – private hospital in Madeira located in Funchal. Offers 24/7 emergency services, external consultations, internments, and surgeries.
Madeira Medical Centre – a private health clinic located in downtown Funchal.
Hospital da Luz – private health clinic in Funchal.
MCS can assist you in registering with the Regional Health Service (SESARAM) or any private health insurance provider. Additionally, we can recommend doctors that are a good fit for your situation.
Access to Education
Portugal has a vast network of prestigious private schools and state-run Universities scattered across the country (including Madeira), to which those residing in Madeira can apply. The educational system is comparable to that of other EU-Member States. School is compulsory from basic to secondary school (12th grade), and all residents of Madeira have access to the public school system.
In the Autonomous Region of Madeira, the Regional Government provides education on the island through its network of public schools. Education is free and compulsory for all residents up to the twelfth grade or eighteen years old (age of majority). As such, expat children in Madeira have the same rights to free public education as Portuguese citizens. Note that pupils are often required to enrol in the public schools closest to their domicile, and particular deadlines exist.
It is essential to mention that currently, public schools in Madeira do not often offer extra-curricular activities or ancillary services. Nevertheless, there is no shortage of linguistic, athletic, cultural, and artistic activities in the region to which kids can enrol, some of which provide transportation to and from school. If you decide to enrol your children in the public school system, you can consider institutions such as Clube Naval do Funchal, Academia de Línguas da Madeira or Conservatório – Escola Profissional das Artes da Madeira for their extra-curricular activities.
The leading private schools targeting expat children in Madeira are The International School of Madeira and the International Sharing School of Madeira since these are English-language. These schools are located in Funchal, Madeira's capital, and are wholly incorporated into the island's public education system. In addition, the International Sharing School of Madeira is International Baccalaureate® accredited. Students graduating from these institutions are automatically admitted to all public schools in Madeira.
Besides the above, Funchal has a good network of Roman Catholic-run schools and kindergartens where Portuguese is the teaching language.
Students graduating from any of the abovementioned institutions have access if approved in the national exams for admission to colleges and universities, to any university in Portugal.
Universities in Portugal rank among the Top 500 in the international Shanghai Ranking and have renowned European colleges in the following fields, among others:
Engineering:
Economics:
Nova School of Business and Economics (Nova SBE) and Católica Lisbon School of Business and Economics are "Triple Crown" holders, being certified by:
Nova SBE is a Member of the CEMS Global Alliance in Management Education.
Access to public services and private institutions
To access or enrol in the abovementioned public and private services, the first thing you will need to obtain is the Portuguese taxpayer identification number (NIF) is used by the Portuguese Tax Authority to identify an individual.
In fact, the NIF is required for anyone wishing to live, study, work or invest in Portugal, regardless of their tax residency status. It consists of a nine-digit number that can be assigned to anyone, irrespective of whether they live in the country.
Until you effectively relocate to Portuguese territory and obtain a residency permit, you can only apply for a NIF as a non-resident (i.e. indicating your foreign home address to the Portuguese Tax and Customs Authority).
Should you apply for NIF as a non-resident and reside outside the European Union, Iceland, Norway or Liechtenstein (EEA), you must appoint a tax representative. A tax representative is a natural or legal person who is a resident of Portugal for tax reasons and agrees to function as a liaison between the non-resident taxpayer and the Portuguese Tax and Customs Authority. If the non-resident taxpayer conducts VAT-exempt business in Portugal, the fiscal representative must also be a VAT-exempt taxpayer in Portugal.
The fiscal representative must comply with the following:
Report on his tax liabilities to his represented party
Maintain communication with the represented taxpayer of the legal dates for meeting its tax liabilities.
Receipt of fees and taxes payable from the represented party and submission to the Portuguese Tax and Customs Authority
Assure compliance with all of its represented taxpayer's tax obligations in Portuguese territory
Intervene on behalf of the represented taxpayer as necessary, ensuring the latter's tax rights
Should you decide to become a tax representative for a friend or family member to assist with their relocation to Madeira, talk with a lawyer or a board-certified accountant to understand the implications of said appointment better. As implied by the responsibilities mentioned above, a tax representative must be a highly qualified and proficient entity in Portuguese tax law.
Failure to comply with Portuguese tax duties leads to severe fines or criminal liability that can easily be avoided.
Political Stability, Law and Rights
Portugal has a strong tradition of political stability, with power alternating between the two main centre parties since 1974. Given its constitutional system, premier-presidentialism, it is not unusual for these centre parties to form a coalition with other minor parties in recent years.
The Autonomous Region of Madeira possesses its own political and administrative statute and has its Government. The branches of Government are the regional executive (Governo Regional) and the legislative assembly (Assembleia Regional). The assembly is elected by universal suffrage. The same party has exercised power in Madeira since 1976 and since 2019 in a coalition with its sister party.
The Portuguese Law system is part of the civil law legal systems based on Roman Law. Since the 20th century, there has been a significant influence from German civil Law, a shift from the French influence of the previous century. Since 1986 European Union Law became the primary driving force on corporate law, administrative law and civil procedure.
Portuguese Law has influenced the legal systems of Angola, Brazil, Cape Verde, Guinea-Bissau, Mozambique, São Tomé and Príncipe, Timor-Leste, the State of Goa (India) and the Special Administrative Region of Macau, China.
Portugal is the only country in the Top 4 Most Powerful Passport Index (Visa-Free Score of 158 countries) to have the most cost-efficient Residency and Citizenship by Investment in Europe.
According to the Cato Institute's Human Freedom Index, Portugal ranked among the Top 18 Countries, surpassing France, Taiwan and Greece pertaining to economic and personal freedoms.
As for religious, bioethical, family and gender freedoms, Portugal ranks in the world's Top 3 in the World Index of Moral Freedom, surpassing all the G20 countries in these fields.
Portugal is among ILGA-Europe's Rainbow Index Top 10 European countries regarding LGBTQIA+ equality, surpassing countries like The Netherlands, the UK, Sweden and Germany.
Geography
Madeira's unique geographical location turned Portugal into the first global empire in the 15th century. It is the meeting point between three continents – Europe, Africa and America. Cristiano Ronaldo International Airport (FNC) connects the island to international airports and the Portuguese Mainland.
Distance, in hours, of Lisbon and Santa Cruz, where FNC is located, from major cities (direct flights):
| | | |
| --- | --- | --- |
| Cities | From Lisbon | From Santa Cruz |
| Paris | 2h 18min | 3h 30min |
| Frankfurt | 2h 51min | 4h 3min |
| Helsinki | 4h 41min | 5h 52min |
| Zürich | 2h 39min | 3h 51min |
| Madrid | 1h 8min | 2h 19min |
| Luxembourg | 2h 39min | 3h 51min |
| Stockholm | 4h 13min | 5h 23min |
| London | 2h 28min | 3h 36min |
| Amsterdam | 2h 49min | 3h 59min |
| Brussels | 2h 38min | 3h 49min |
| Rio de Janeiro | 10h 4min | N/A |
| São Paulo | 10h 21min | N/A |
| Luanda | 7h 39min | N/A |
| Maputo | 10h 54min | N/A |
| Lisboa | N/A | 1h 43min |
The Autonomous Region of Madeira has a modern highway system that connects Funchal to all other municipalities in Madeira Island. As for Porto Santo Island, the island is served by a ferry boat and its airport (PXO).
Buying property
The Autonomous Region of Madeira has a very dynamic real estate market, characterized by high demand due to the island's allure to expats since the 19th century.
Should you be looking for a property to rent or acquire because of your move to Madeira or simply because you are looking to invest on the island to take advantage of the ever-present touristic and expat market. We at MCS work with the most reputable real estate agencies in the market. Our sifting work with said agencies is to help you find a property that matches your needs and fulfils all our legal due diligence requirements so that your position is safeguarded.
Although realtors and other stakeholders might represent, at the same time, the real estate buyer and seller, we at MCS solely represent our clients. Therefore, we avoid and prevent conflict of interest.
Want to talk with us?
Should you have any questions about us and our services, please do not hesitate to contact us.